Page 10 of 20
1-1 - 2011. WINTER CLOSES IN
The temperature fell from 23 C yesterday to only 2 C this morning. No traces of fireworks anywhere, and we had also heard nothing all night. A bit sleepy I drove the car to Newport in Arkansas. Until now we had not turned on the heater in the car. So when we went shopping in Walmart I found a pair of big jogging-pants to wear on top of my jeans. All the small diners were closed, so for the first time we went to chain restaurant. We chose buffet and it was very cheap, cheaper than cooking at home. Most Americans do not keep food in their kitchens at all, only snacks, soft drinks and ice. The family members seldom eat at the same time, so logically in many homes the dinning table is on the way out. To cook food in your home seems to be for the wealthy.
Nina
---
31 - 12. HAPPY NEW YEAR!
Arkansas had Little Rock full of Clintoniania and a very subdued new years eve. Just as we entered Little Rock and braked for red light a lady pulled up, rolled down the window - "Is it really electric? Awesome! Welcome to Little Rock!" She guided us to the River Market, a municipal initiative, where people from all over the world sold home-cooked food. A Syrian woman served us falaffels and afterwards we drank strong coffee at another stall. Families had a good time and a Christmas-tree sparkled. The vibe was nice and relaxed. The world had gone forward since Little Rock was a synonym with racism and violence. At the motel in Prescott north of Little Rock TV showed the party at Times Square in New York. Nina had bought a bottle of champagne and two glasses and we toasted to the new year with New York. And an hour later we toasted again, now together with the party in Chicago and so we kept on toasting through all time-zones until LA. HAPPY NEW YEAR!
Hjalte
---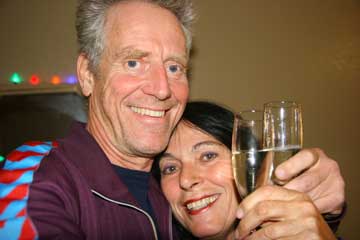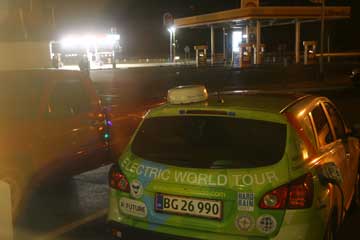 I, Green Car, is standing outside the motel and drawing power from Nina and Hjalte's room. I have now traveled 189 days with them. On the first 20.000 kilometers I have not really got to show what I can. To tell the truth they are afraid to kick the accelerator. They lumber round the world. But OK, the thing is to get far on each charge, and with an EV you have to drive slow to get there fast. Over by the flagpole two young guys fire rockets. And now I see Nina and Hjalte look out the window. They toast. From me too: HAPPY NEW YEAR EVERYBODY!
Green Car
---
30-12. TEXARKANA
As I left the motel the brake did not work. We had this problem before at low speed and knew what to do: a hard knock on a small relay. This time Hjalte took time for a proper repair and put in a new relay and Green Car was braking again. In the afternoon we cruised in vain for 240 volt in Texarkana and met some young guys at a tire-shop fitting over-size wheels and low hanging jeans. Quite a car! At the KOA-kamp outside town we ran into a very friendly manager and the good 50 amp RV-power. Electricity is cheap in USA. Three hours added up to $ 1,4. It was now dark and chased by a whole phalanx of huge, brightly lit trucks we rolled into Arkansas.
---
29 - 12. WE MEET A NEW ELECTRIC CAR-FRIEND
Ida and Elliot waved goodbye in Dallas airport. Nina and I have enjoyed every minute with them in Green Car. On the British Virgin Islands waits father Hans and beach holiday. We will see them again in New York at the end of the month. In Richardson, a Dallas suburb, Paul from the Electro Auto Association was waiting for us. We got Green Car plugged in in his garage after some trying. The EV-people are active here in Dallas and several members have constructed their own EVs. Paul has bought a Leaf, the first Nissan EV, and he is no 6 on the list for delivery at the local auto dealer. Paul explains that for many EV-people a major motive for going electric is to cut dependency on oil (from the Middle East). We went out dinning with Paul and he invited us to stay the night, but we had to press on towards Detroit and said goodbye to yet another helpful and sympathetic EV-friend.
---
28 -12. COWBOYS AND ART
The idea was to go shopping before Ida's departure tomorrow. In Fort Worth we visited the historic Stock-yards, now a row of tourist-shops with cowboy-gear. A lot of fine things and a lot of junk. But we did not buy anything, it was too expensive. One shop had crazy boots costing 10.000 dollars. We had lunch in a cowboy-grill and spent the afternoon in two big art-museums. They were crammed with people eager to kill a day of the holiday with culture. Not much else was going on in the town and it was one of the most busy days in Kimberley Art Museum and Fort Worth Museum of Modern Art. Elliot was riding on Hjalte's shoulders and as always one big smile.
Nina
---
27-12. TRACES OF A WHEELED CIVILIZATION
In bright sunshine we took a walk for a couple of hours to give time to charge Green Car. Several cars stopped and asked friendly if we were OK? It was not normal to walk on your legs. There are wheels under people here from cradle to grave. We visited a small graveyard, with the graves beautifully decorated by plastic flowers. On the way back we began seeing the debris dumped on the roadside, where few humans put their feet. We found an old rusty horseshoe, a saw-blade, run-over armadillos, dead turtles, scraps of car-lights, tires and mirrors, two spanners, a veterinary syringe, mascara, MacDonald ketchup, nuts and bolts, a lot of cigarette butts and broken booze bottles, the lid of Copenhagen snuff, a price tag from a shirt, a ball pen and a license plate. We took a picture and drove the last miles to Fort Worth/Dallas.
Nina
---
26-12. WE FIND A MONGOLIAN TENT IN TEXAS
25 - 12. THE EMPTY PANHANDLE TOWNS
Green Car was covered in ice when we woke up. The batteries were almost frozen, but the car started up as normal. It had the same range as on warm days because the batteries heat up when we use them. The sun was shinning cold on yellow grass from a blue sky. The land seemed empty. In Vernon we found a motel run by Indians - we could smell the curry in the lobby - and went for a walk. It seemed deserted a long time ago. Gas-stations, billboards and shop fronts from the sixties, all left behind. Only the funeral parlor had new shining cars and a modern house. We charged Green Car from the AC-outlet in our room. We begin to know where to find 220 V.
Hjalte
---
24 - 12. PALO DURO CANYON TO MEMPHIS, TEXAS
We are now zooming in on Dallas along 287. This morning we left the wonderland of Palo Duro Canyon and emerged on the flat, frosty and windy Panhandle Plains. In Memphis cotton was flying in the wind and half the shops seemed to have gone out of business. The little town was closed down for Christmas, a few churches flashed their neon-signs and we could chose from two empty Indian-run motels. Green Car was plugged into the AC-outlet and the only source of heat in our room. We put on more clothes and lit up the Christmas-tree from China. Elliot loved it. Ida heated an Indian dish and Nina warmed a blueberry pie. During the night I listened to the mighty trains. The ground was shaking as countless wagons pulled by massive BNSF locomotives passed by. Hybrid EVs. Electric traction is powerful.
Hjalte
---
23-12. WE CELEBRATE CHRISTMAS IN PALO DURO CANYON
Tonight we will celebrate Christmas, so we do a solid shopping in Amarillo's only organic grocery. On the way south to Palo Duro Canyon State Park we visit the Panhandle Plains Historical Museum in Canyon. A super-interesting, engaging, modern and big museum explaining the history of north Texas from the stone age to the Indians, the settlers and the present with oil and industrial agriculture, contrasting past and present in a thought-provoking way. Palo Duro is the second-largest canyon in the USA and we had booked a cabin. It was down in the bottom of the canyon, built by stones, very small and very cold. It was like something out of a fairytale. Unfortunately we could not use the fireplace because of fire-ban so we turned on a AC-heater. On Ida's camp-stove we cooked rice-porridge and brewed glüh-wine. Nina unfolded a small electrical Christmas tree bought in Walmart and lighted our colored lights. We sang all the Christmas carols for Elliot, and he got presents with new toys. Then we listened to our audio-crime novel until we fell asleep in the bunk beds. Green Car had got its own site with hook-up and ate juicy 220 V power under the wintry stars.
Nina and Hjalte